All of our information is sourced from manufacturer data.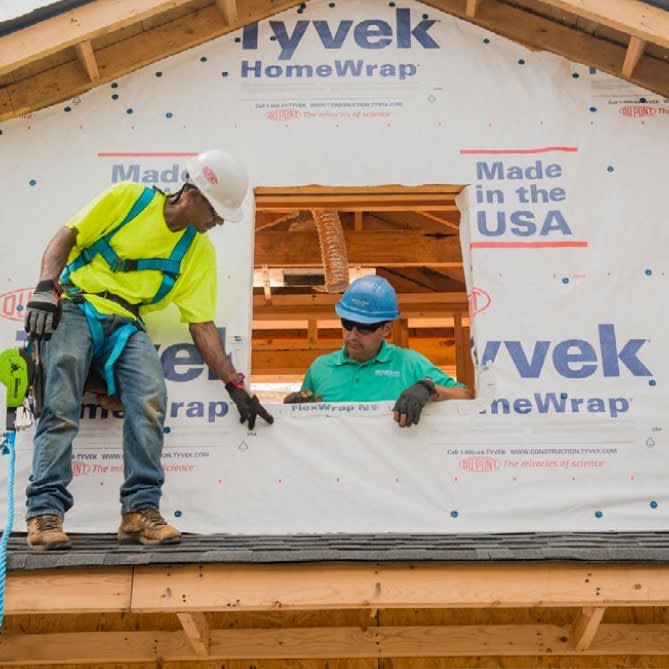 DuPont' Tyvek
Tyvek HomeWrap
One-Click Request
Acelab will find & contact reps to deliver answers to your inbox.
Overview
Integral Sheathing With Factory Applied Membranes
Polymer
Sloped Ceiling, WRB (Weather/Water Resistant Barrier)
Exterior Walls Only, Unfinished Floor
Product Description
DuPont Tyvek HomeWrap is the original house wrap, incorporating unique material science that helps keep air and water out, while letting water vapor escape. As a result, it can contribute to improved building durability by helping to protect homes against damaging wind and rain that can penetrate the exterior cladding.
Width
Standard Sizes: 3' 0", 4' 0", 5' 0", 9' 0", 10' 0"
Height
Standard Sizes: 3' 4", 8' 4", 12' 6", 13' 9", 16' 8"
Performance Data
Product Weight Per Area
Roll Tensile Strength
Weight needed to break the roll, per inch of width
Water Vapor Transmission
An imperial perm is defined as 1 grain of water vapor per hour, per square foot, per inch of mercury
Air Permeance
Rate of airflow through the barrier per square foot at a specified pressure difference
cfm /ft^2 @ 1.57 psf
0.004