All of our information is sourced from manufacturer data.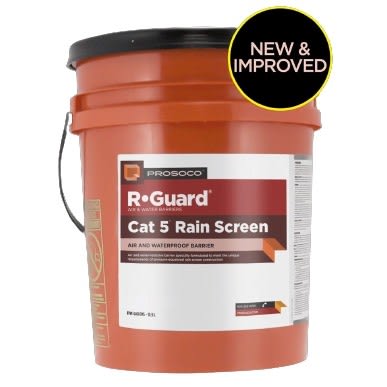 PROSOCO
Cat 5 Rain Screen
One-Click Request
Acelab will find & contact reps to deliver answers to your inbox.
Overview
Fluid Applied Membrane
Mineral
Sloped Ceiling, Waterproofing
Concrete Surfaces, Unfinished Floor
Product Description
Cat 5 Rain Screen is air and waterproof barrier that goes on the wall with a sprayer or roller to produce a highly durable, seamless, elastomeric weatherproof membrane on exterior sheathing behind the open-jointed or vented rain-screen cladding. Use Cat 5 Rain Screen as the primary air and water barrier over above-grade wall assemblies.
Performance Data
Product Weight Per Area
Roll Tensile Strength
Weight needed to break the roll, per inch of width
Water Vapor Transmission
An imperial perm is defined as 1 grain of water vapor per hour, per square foot, per inch of mercury
Film Tensile Strength
Pressure required to break the film
Air Permeance
Rate of airflow through the barrier per square foot at a specified pressure difference