All of our information is sourced from manufacturer data.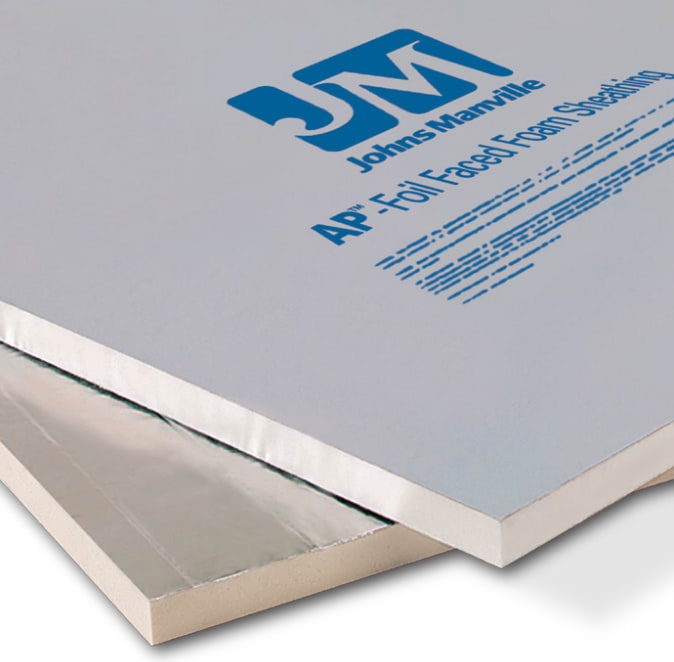 Johns Manville Roofing Systems
AP Foil-Faced Foam Sheathing
One-Click Request
Acelab will find & contact reps to deliver answers to your inbox.
Overview
Board Insulation
Foam Board
Polyisocyanurate
Roof, Sloped Ceiling
Product Description
Johns Manville AP Foil-Faced Polyiso Continuous Insulation board consists of a uniform closed-cell polyisocyanurate foam core bonded on each side to a foil facer. AP Foil provides exceptional heat, moisture and air control and, when installed correctly, eliminates all major thermal bridges that cause heat loss. The rigid board sheathing has a one-inch layer of continuous insulation for maximium wall and worksite efficieny.
Width
Standard Sizes: 4' 0"
Height
Standard Sizes: 8' 0", 9' 0", 10' 0"
Thickness
Standard Sizes: 0-1/2", 0-3/4", 1", 1-1/2", 2", 2-1/2", 3", 3-1/2", 4", 4-1/2"
Manufacturer Design Notes
AP Foil-Faced Polyiso Continuous Insulation is nonstructural. The walls must be braced in accordance with the requirements of the applicable code.
Performance Data
R-Value Per Inch
Measure of the thermal resistance of the product per inch of thickness, imperial units.
NRC Value
The Noise Reduction Coefficient values of this product
Fire Resistance
Amount of time the product can withstand fire
Dimensional Stability
The percent that a product's dimensions vary due to aging or environmental conditions.
Flame Spread
As defined by the ASTM E84 testing standard
R-Value
Measure of the thermal resistance of the product, imperial units.
°F·ft^2·h / BTU
2.9, 5, 6, 9.3, 13, 16, 19, 22, 26, 28
Water Vapor Transmission
An imperial perm is defined as 1 grain of water vapor per hour, per square foot, per inch of mercury
Smoke Development
As defined by the ASTM E84 testing standard