All of our information is sourced from manufacturer data.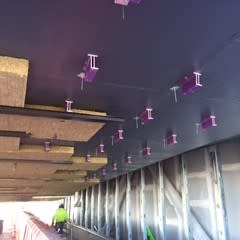 Vaproshield
RevealShield SA
One-Click Request
Acelab will find & contact reps to deliver answers to your inbox.
Overview
Self-Adhering Membrane
Polymer
Sloped Ceiling, WRB (Weather/Water Resistant Barrier)
Exterior Walls Only, Unfinished Floor
Product Description
Black, UV Stable Water Resistive Vapor Permeable Self-Adhered Air Barrier Membrane for Open Joint Rain Screen Cladding Systems.
Width
Standard Sizes: 4' 11"
Height
Standard Sizes: 8' 6"
Thickness
Standard Sizes: 0"
Performance Data
Product Weight Per Area
Water Vapor Transmission
An imperial perm is defined as 1 grain of water vapor per hour, per square foot, per inch of mercury
Roll Tensile Strength
Weight needed to break the roll, per inch of width
Minimum Temperature Rating
The lowest temperature that the product has been confirmed to still function at.
Minimum Application Temperature
Minimum temperature that the product can be applied or installed
Air Permeance
Rate of airflow through the barrier per square foot at a specified pressure difference