All of our information is sourced from manufacturer data.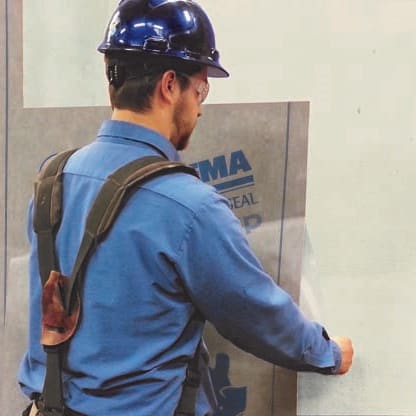 Soprema USA
Sopraseal Stick VP
One-Click Request
Acelab will find & contact reps to deliver answers to your inbox.
Overview
WRB (Weather/Water Resistant Barrier)
Fully Adhering
Polymer
Sloped Roof, Wall
Concrete, Masonry, Wood Sheathing
Product Description
SOPRASEAL Stick VP is a light weight 24mil, self-adhered vapor-permeable water resistive air barrier used in wall construction. SOPRASEAL Stick VP is composed of a tough tri-laminate composite facer coated with a high tack adhesive specially formulated for permeability and protected with a silicone release film.
Width
Standard Sizes: 3' 1-3/8"
Height
Standard Sizes: 8' 2-3/8"
Thickness
Standard Sizes: 0"
Manufacturer Design Notes
SOPRASEAL Stick VP is installed without the use of a primer as a self-adhered air and vapor mitigating barrier on vertical masonry and concrete walls, as well as exterior gypsum wall board, metal, OSB and exterior grade plywood sheathing.
Performance Data
Roll Tensile Strength
Weight needed to break the roll, per inch of width
Water Vapor Transmission
An imperial perm is defined as 1 grain of water vapor per hour, per square foot, per inch of mercury
Minimum Temperature Rating
The lowest temperature that the product has been confirmed to still function at.
Minimum Application Temperature
Minimum temperature that the product can be applied or installed
Film Tensile Strength
Pressure required to break the film
Dimensional Stability
The percent that a product's dimensions vary due to aging or environmental conditions.
Air Permeance
Rate of airflow through the barrier per square foot at a specified pressure difference
cfm /ft^2 @ 1.57 psf
0.0005