All of our information is sourced from manufacturer data.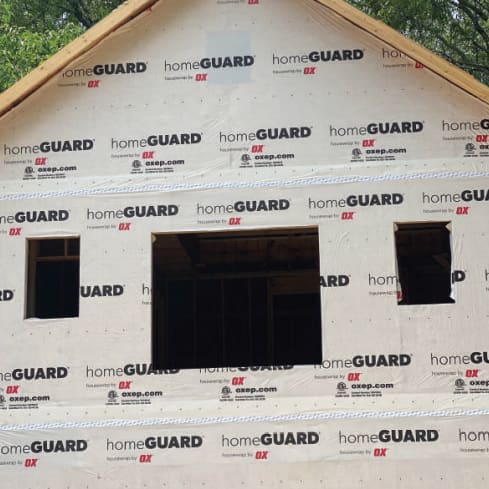 OX Engineered Products
HomeGuard
One-Click Request
Acelab will find & contact reps to deliver answers to your inbox.
Overview
WRB (Weather/Water Resistant Barrier)
Mechanically Attached
Polymer
Sloped Roof, Wall
Concrete, Masonry
Product Description
Protecting you from the harsh elements of mother nature, HomeGuard housewrap excels in air and water resistance, moisture vapor permeability and durability.
Width
Standard Sizes: 3' 0", 4' 6", 5' 0", 9' 0", 10' 0"
Height
Standard Sizes: 8' 4", 12' 6", 16' 3", 16' 8"
Manufacturer Design Notes
Air Resistive Barrier: Protects the wall assembly from air infiltration to increase the comfort of the building by reducing drafts and increasing energy efficiency.
Performance Data
Air Permeance
Rate of airflow through the barrier per square foot at a specified pressure difference
Water Vapor Transmission
An imperial perm is defined as 1 grain of water vapor per hour, per square foot, per inch of mercury
Roll Tensile Strength
Weight needed to break the roll, per inch of width
Breaking Strength
The force needed to break the barrier, in pound-force.
OX Engineered Products
22260 Haggerty Road STE 365 Northville 48167
248.289.9950