All of our information is sourced from manufacturer data.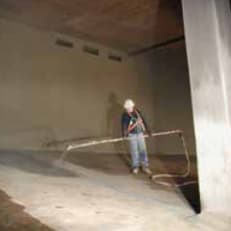 One-Click Request
Acelab will find & contact reps to deliver answers to your inbox.
Overview
Fluid Applied Membrane
Mineral
Sloped Ceiling
Ceiling, Concrete Surfaces, Exterior Subterranean Floor, Exterior Subterranean Wall, Floor, Masonry Surfaces, Roof, Specialty, Unfinished Floor, Wall
Product Description
AQUAFIN-1K is a cement-based, polymer modified, waterproof coating. Mixed with water it forms a dense, rigid surface barrier. It consists of portland cement, well graded quartz sand and polymer enhanced chemical ingredients.
Manufacturer Design Notes
It is used for Concrete, brick and block foundations and retaining walls. It is used as a waterproof coating for potable water and open wastewater tanks.
Performance Data
Air Permeance
Rate of airflow through the barrier per square foot at a specified pressure difference
Roll Tensile Strength
Weight needed to break the roll, per inch of width
Water Vapor Transmission
An imperial perm is defined as 1 grain of water vapor per hour, per square foot, per inch of mercury
Minimum Application Temperature
Minimum temperature that the product can be applied or installed